Description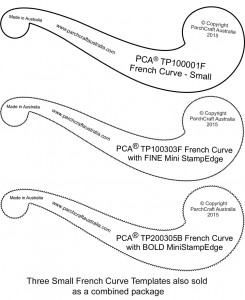 TP100003F French Curve (Pack of 3 Small templates) .
This pack contains the three small French Curves.
PCA-TP100001F PLAIN Outside Edge
PCA-TP100303F FINE Mini Stamp EasyEdge
PCA-TP200305B BOLD Mini Stamp EasyEdge.
The two EasyEdge templates are an extension from the plain smooth edge. To use with your PCA-F1003 Fine Mini StampEdge or PCA-B2003 Bold Mini StampEdge tool.  Very quick and easy. Excellent results easily achieved.
Back order now.  Delivery expected approx 14 Jan